PM & Ozone Management Framework
A unique component of the framework is the application of keeping clean areas clean and continuous improvement concept. It moves the traditional scope of management beyond compliance with a numeric standard and puts more emphasis than ever before on managing and improving air quality below a numeric standard.
Keeping clean areas clean has been incorporated into the CASA framework by adopting a tiered management framework for ambient levels below the CWS. This framework recognizes and builds upon existing programs and policies, applying a philosophy of prevention and continuous air quality improvement to fill in gaps wherever necessary.
Three ambient levels trigger different management actions to keep the levels below the CWS:
baseline
surveillance
management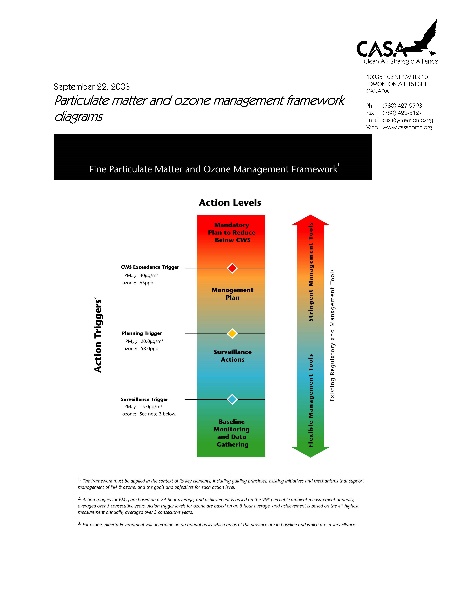 This framework diagram will help you visualize the overall framework with the recommended numeric trigger levels (ambient concentration levels) and the annual analysis process.
For example, if ambient levels are close to the CWS numeric standard, more aggressive management actions will be triggered, including the development of a management plan by stakeholders.
On the other hand, if areas are closer to background ambient levels, the impetus for management activities will be much less and focused more on air quality monitoring and voluntary or incentive-based actions. An annual analysis of PM and ozone levels in areas of the province will be undertaken.
A regulatory backstop exists at all levels of the framework, and existing policies like Alberta Environment's Industrial Release Limits Policy will continue to apply at all levels of the framework.
The framework creates stability between environmental, economic, social and health considerations, sets out clear ground rules and reasonable costs, provides flexibility to address local circumstances, and allows equal opportunities for Albertans, industry, government, environmental and health groups to participate in its implementation.
The PM and Ozone Project Team took about three years to develop the framework and had representatives from eight industry sectors, four Government of Alberta departments, Environment Canada, municipal governments, airshed zones, and key environmental and health organizations. To view the framework, see framework here.
---
If you'd like more information, please email info@awc-casa.ca.